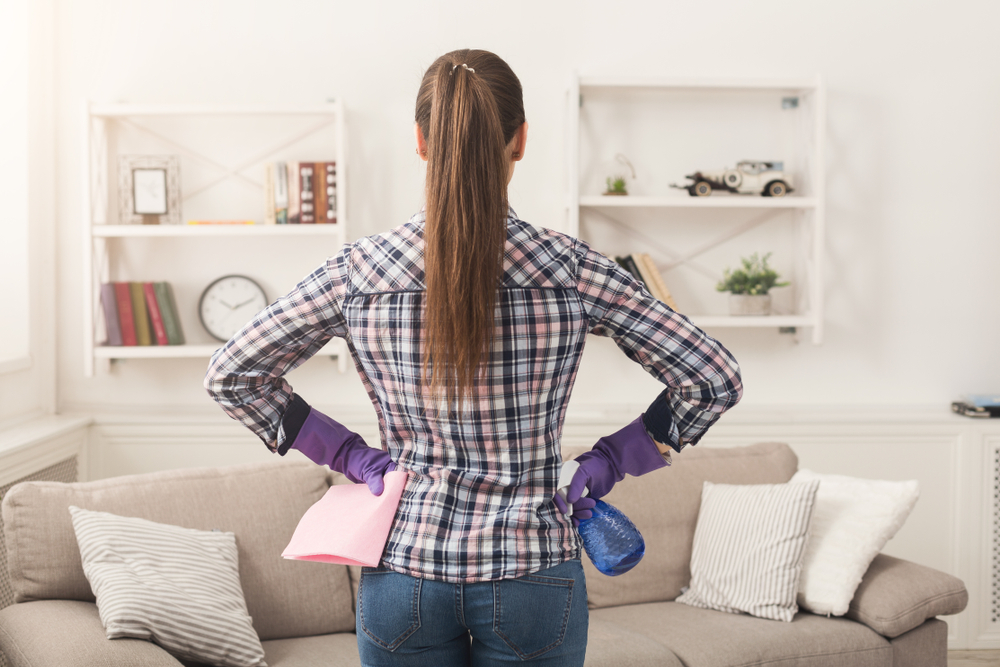 Maintaining a clean and organized home may seem like an impossible task, especially if you work full time and have to clean after your family too. Luckily, we've compiled a set of tips and tricks to help you keep your house clean and tidy at all times!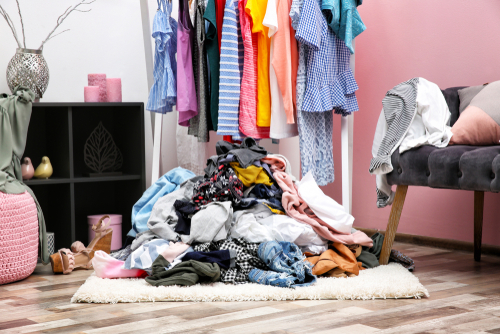 What's more, you don't have to do everything yourself! Rely on the foremost Oakland house cleaning services and take some time to relax while your dependable cleaning pros clean your kitchen efficiently, make your bathroom shine and clean your furniture upholstery.
Read on to learn how to maintain a tidy home!
How do you keep your house clean and organized?
We know how difficult it can be to stay on top of your chores when you barely have the time for work and family. That's why we have put together a list of tips you can use daily to keep your home looking good. Here's what you should do:
Put items away after you use them
Clean up a little bit every day
Make your bed when you get up
Empty your sink and dishwasher every morning
Don't leave trash around
Clear out clutter regularly
Once you make these simple tasks a part of your daily routine, you'll soon notice that cleaning your home isn't as difficult as it once seemed. Even if you don't spend hours scrubbing and wiping, your home is bound to look so much better if you make an effort to do at least a tiny bit every day.
How do you keep your house clean in a week?
Nothing can mess up your cleaning schedule as an exceptionally busy week at work. Still, no matter how exhausted you are, we know how you can keep your home clean every day of the week. All you need is an efficient schedule!
Create a weekly cleaning plan
A great way to maintain a clean and tidy home is to dedicate each day of the week for cleaning one room or tackling one chore. For example, you can throw out bad food from the fridge and wipe countertops and appliances to make your kitchen shine on Monday, declutter your living room on Tuesday and clean the bathroom and mop the floors on Friday. Whichever order you choose, just set your timer for an hour each day and get to work!
Create a daily cleaning plan
In addition to the weekly schedule, it's also a good idea to have a set of easy and quick tasks you can incorporate in your daily routine. Set aside a couple of minutes each morning to clear out your bedside table and make an effort to rehang the clothes you wore before you go to bed. These kinds of chores take so little time to complete that you won't even remember doing them once you make them a habit!    
How can I keep my house clean if I work full time?
Having a clean house while working full-time can be a real challenge. If you're a busy working mom, a young professional with too much on their hands or a dog-owner struggling to keep their home clean, you certainly know what we're talking about.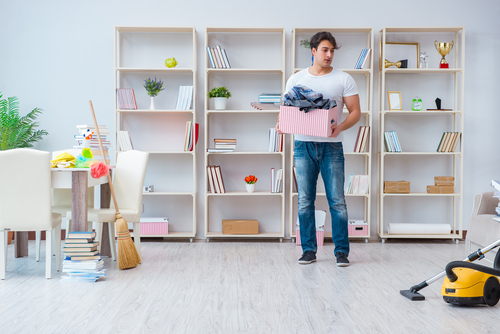 Here's where the struggle lies: you truly don't have the energy do to any more work but want to have a squeaky clean house no matter what. Sure, this can be easily fixed by hiring a professional cleaner, but is there a way you can make it work without external help?
We say: yes, if you know how. Here's how you can balance a full-time job and keeping your home looking fresh:
Do a little bit every day: cleaning your house doesn't have to take hours! Sometimes it's more than enough to take 30 minutes to dust one day and vacuum the next!
Try micro-cleaning: waiting for your partner to get ready? Declutter your coffee table! Using the free minutes in-between activities to tackle small tasks is a great way to use your time wisely.
Have your cleaning supplies ready: always keep your eco-friendly cleaning products in an easily accessible place to streamline your cleaning process!
Clean more regularly! Yes, we know you're busy. We also know that just half a minute of cleaning every day can do wonders to help you maintain a neat house.
Book #1 Oakland house cleaning services and forget about the mess
While maintaining a clean home during the whole week is anything but easy, you can definitely do it if you put your mind to it. Still, you're probably yearning to spend some quality time with your family or by yourself without having to worry about the mess in your home.
That's why hiring professional house cleaners is the best way to keep your home nice and clean at all times. Forget about cleaning for once and rely on Mythical Maids to give you a spotless home you deserve while you take some time to unwind at Lake Merritt. Reach out to us today!