House Cleaning Services in Berkeley, CA
In need of cleaning for your home or apartment in Berkeley, CA? Whether you're a year-round resident of Berkeley in need of a cleaning for your home, or a student at the University of California, Berkeley campus in need of cleaning for your apartment, Mythical Maids is your go-to cleaning company in the bay area.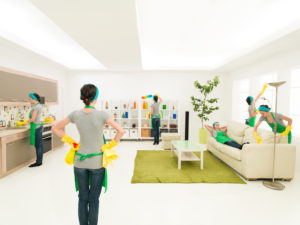 The Best Maid Service in Berkeley
With demands at work, home, and school, we understand life can get busy, and cleaning is often the last thing you want to do. Why not check that time-consuming chore off your to-do list? Whether you're on the Southside by California Memorial Stadium, North Berkeley off Cedar St.,South Berkeley by Ashby Avenue, Northwest near McLaughlin Eastshore State Park, Downtown, in Westbrae, or out in Thousand Oaks, Mythical Maids provides home and apartment cleaning services near you.
All of our Berkeley house cleaning services are backed by our Mythical Guarantee – if you're not 100% satisfied with your clean, we'll come back and fix it for free. Maybe you're thinking this is too good to be true? Our goal is to provide the best cleaning service possible to our customers in Berkeley, and if we weren't the best in the area, this guarantee would surely put us out of business – however, our satisfaction rate is through the roof! Check out what some of our previous home cleaning customers in Berkeley had to say:
"I scheduled my first appointment online the day before I needed cleaning. They showed up right on time and after introductions I showed our maid around the place and she went right to work. Cleaned everything. Lots of attention to details, and asked to make sure things were acceptable. I was very pleased. She didn't leave without making sure I was happy with how everything was, and I was. I highly recommend."   – Aaron T., Berkeley, CA
"The maids did a very thorough job cleaning my bathroom and bedroom. Very satisfied with how it turned out afterwards, especially since there was already mold growing on the bottom of my bathroom floor. Will definitely be coming back to these guys when I need my rooms cleaned again!" – John S., Berkeley, CA
"I live in a small apartment with four other college students, and we really needed help with cleaning our home, particularly our single bathroom. We reached out to Mythical Maids, and the experience was excellent. We spoke directly with a manager, and he was able to provide us with amazing cleaners. The manager guaranteed us that these cleaners were licensed, insured, and background-checked, and so we felt very comfortable with letting them into our home. And what a job they did… from scrubbing the sinks and toilets to removing the smallest cobwebs, the cleaners from Mythical Maids made our bathroom spotless. If you are looking to get your home thoroughly cleaned, Mythical Maids are the people to hire." Sahil L., Berkeley, CA
Our Berkeley Home Cleaning Services
We Offer various types of cleans, from the standard house cleaning job, to deep cleaning and move-in/move-out cleans that tend to be perfect for college students at the University of California, Berkeley.
Standard items we clean in every room of the house include the removal of cobwebs, cleaning/dusting of all fans and vents, dusting and wiping of doors, and the dusting of baseboards. Other cleaning items are specific to each room and it's needs, check out what's uniquely included in a standard clean for each room:
Kitchen Cleaning
Clean Inside and outside of Microwave
Clean Front of all cabinets, handles, and sills
Clean and polish hood vent
Polish stove top, front, and control panel
Clean large electronic appliances
Polish all stainless steel surfaces
Clean and dry sink counters
Clean all light switches and knobs
Clean counters and backsplash
Empty garbage and replace bag
Vacuum, mop, or hand clean kitchen floors and rug
Bedrooms and Common Area Cleaning
Make beds and change linens
Dust furniture, decor, and wipe glass table tops
Empty trash in all bedrooms, living, and office spaces
Vacuum all carpets, rugs, and stairs
Vacuum inside closets and drawers
Bathroom Cleaning
Dusting blinds, ledges, and furniture
Clean mirror and shine chrome
Scrub and clean toilets, tubs, showers
Cleaning Extras
In addition to our standard cleaning services, we also offer add-ons or upgrades for a more comprehensive cleaning experience. This includes cleans such as the deep-cleaning, move out clean, or specific items that require more time and effort from our cleaners such as removing pet hair, cleaning inside of the refrigerator, over, or others such as doing laundry or using eco-friendly products only.
For your house cleaning in the 94701, 94703, 94705, 94707, 95709, 94712, 94702, 94704, 94706, 94708, 94710, or 94720 zip codes of Berkeley, California, easily book online or give us a call at (510) 868-2187

Rated 5/5 stars
See reviews
Mythical Maids
2024 Durant Ave
Berkeley, CA 94704
(510) 868-2187